"Mir macht es Spaß, mein Wissen weiterzugeben"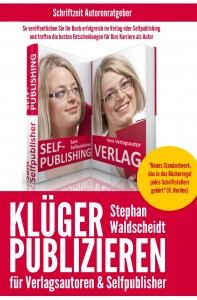 Stephan Waldscheidt ist Autor zahlreicher Kurzgeschichten und Fachartikel. Im letzten Jahr erschien sein zweiter Roman "Insein für Outsider", zudem veröffentlicht er regelmäßig Schreibratgeber und berät Autoren beim Schreiben und Publizieren.
Auf seinem Blog gibt er stetig neue Ratschläge mit anschaulichen und überraschenden Beispielen für Autoren: rund um das Leben als Autor, das Schreiben, kreativ sein und zu vielen weiteren Themen.
Herr Waldscheidt, vielen Dank, dass Sie sich Zeit für das Interview nehmen. Sie veröffentlichen unter anderem Romane und Schreibratgeber. Was war das für ein Text, den Sie als erstes von sich veröffentlicht sehen wollten und wie ist er entstanden?
Ein Fantasy-Roman, damals noch ganz klassische High-Fantasy. Entstanden ist er, physisch, auf meiner ersten Schreibmaschine, ein komplett mechanisches Gerät und gebraucht für zwei D-Mark gekauft. Der Roman war, aus heutiger Sicht, nicht mal so viel wert.
Was war der Auslöser dafür, dass Sie Tipps an andere Autoren weitergeben wollten?
Ich habe selbst sehr viel von und aus guten Schreibratgebern gelernt. Auf vieles davon wäre ich durch die reine Lektüre von Romanen nie gekommen. In Deutschland gab und gibt es kaum (um nicht "keine" zu schreiben) gute Ratgeber, wenn es um spezielle Themen beim Schreiben geht, sagen wir, Plotten oder Charakterentwicklung.
Mit der Zeit habe ich gemerkt, dass ich beim Lesen von Romanen oder beim Anschauen von Filmen häufig die Kniffe des Autors bemerke: Wie hat er oder sie ein bestimmtes erzählerisches oder dramaturgisches Problem gelöst? Darüber habe ich dann geschrieben, das Beispiel konnte ich somit auch gleich mitliefern.
Mir hat das Schreiben dieser Tipps Spaß gemacht. Ich habe selbst vermutlich am meisten dabei gelernt. Mir macht es Spaß, mein Wissen weiterzugeben. Vor allem aber will ich bessere Romane von deutschen Autoren lesen. Ich wünsche mir eine pragmatischere Herangehensweise unserer Autoren ans Schreiben, eine Professionalisierung und schlicht: besseres Handwerk. Wenn ich dazu einen noch so kleinen Teil beitragen kann, wunderbar.
Ach ja, außerdem hatte ich natürlich gehofft, wahnsinnig viel Geld mit den Schreibratgebern zu verdienen, die dann später entstanden sind. Kurioserweise ist der Geldregen bislang ausgeblieben.
Was motiviert Sie bis heute, es weiterhin zu tun?
Es ist ein bisschen dieses Gefühl: "He, ich hab da was Tolles entdeckt, einen sagenhaften Trick, wie dieser Bestsellerautor jenen Protagonisten einführt. Das muss ich dir einfach zeigen. Pass auf …"
Natürlich freue ich mich auch über Dankes-Mails von begeisterten Lesern. Sind gar nicht mal so selten.
Ach ja, und die einfach nicht totzukriegende Hoffnung auf den Geldregen.
Wie schätzen Sie ab, dass Ihre ausgewählten Ratschläge hilfreich sein könnten?
Sie helfen mir. Ich finde sie schlüssig und nachvollziehbar. Andere Autoren kämpfen wahrscheinlich mit den gleichen Problemen, wenn sie bessere Romane schreiben wollen. Denke ich. Also erzähle ich ihnen davon.
Und ich sehe in meinen Gutachten (Exposé, Anschreiben, Leseprobe), mit welchen Problemen Autoren besonders häufig kämpfen. Die adressiere ich dann auch, aktuell in meinen Artikeln auf selfpublisherbibel.de.
In Ihren Blogbeiträgen und Schreibratgebern sind detaillierte Beispiele aus Büchern und Filmen zu finden. Verraten Sie mir etwas über Ihre Arbeitsweise. Haben Sie erst ein Thema und suchen dann bewusst nach Beispielen?
So habe ich tatsächlich die ersten Artikel geschrieben. Furchtbare Methode. Sie ist auch schuld daran, dass viele Sachartikel zu trocken sind oder die Beispiele mies oder an den Haaren herbeifabuliert.
Wer so arbeitet, sucht entweder wesentlich länger nach einem Beispiel, als das Schreiben des Artikels dauert. Oder er erfindet Beispiele. Letzteres mache ich nur dann, wenn es sich anbietet oder ich ewas sehr Spezifisches brauche.
Von konkreten Fällen auszugehen, ist auch deshalb sinnvoller, weil es die Methode, die ich beschreibe, in der Praxis zeigt: Da hat tatsächlich ein echter Bestsellerautor oder ein Filmemacher diese Methode erfolgreich angewandt.
Können Sie Bücher noch genießen, oder fängt Ihr Kopf automatisch an den Text zu analysieren?
Ja und ja.
Wie ist Ihr Schreiballtag organisiert? Arbeiten Sie parallel an verschiedenen Texten?
Er ist organisiert. Ins Detail will ich hier nicht gehen. Ich arbeite immer parallel an vielen verschiedenen Texten. Was für die meisten Autoren der Normalfall ist. Da muss ein Text für die Federwelt überarbeitet werden, dort muss noch schnell ein neuer Artikel für die Selfpublisher-Bibel her, während ich an einem Roman schreibe und noch eine Kurzgeschichte für eine Anthologie Korrektur lese. Beim Schreiben eines Romans versuche ich mich inzwischen auf immer nur einen zur Zeit zu konzentrieren. Das geht dann nicht mehr, wenn man mit seinem Agenten oder einem Lektor an einem anderen Roman arbeitet, der eine Deadline hat.
Wie halten Sie Ihre Ideen fest?
Meistens ganz klassisch auf Papier.
Gibt es Texte, die Sie nur für sich schreiben, zum Beispiel zum üben oder aus Freude an der Textform?
Für das reine Üben habe ich keine Zeit. Außerdem sollte jeder Autor irgendwann den Zeitpunkt erreicht haben, wo er vom Üben zum Machen übergeht. Ich trainiere meine Schreibmuskeln, wann immer ich schreibe. Meine liebste Textform ist der Roman, und daran arbeite ich auch meisten.
Früher habe ich mal Gedichte allein für mich geschrieben, und ab und an denke ich mal daran, die vielen hundert, die über die Jahre entstanden sind, zu publizieren. Dann aber frage ich mich: Wozu den Aufwand? Und für wen?
Ach ja, notgedrungen schreibe ich die Texte für mich, die niemand publizieren will.
Haben Sie einen Lieblingssatz, den Sie besonders mögen, von sich oder aus fremder Feder?
Die letzten Sätze von John Irvings "The Hotel New Hampshire":
"You've got to get obsessed and stay obsessed. You have to keep passing the open windows."
Was möchten Sie anderen Autoren mit auf den Weg geben?
"You've got to get obsessed and stay obsessed. You have to keep passing the open windows."